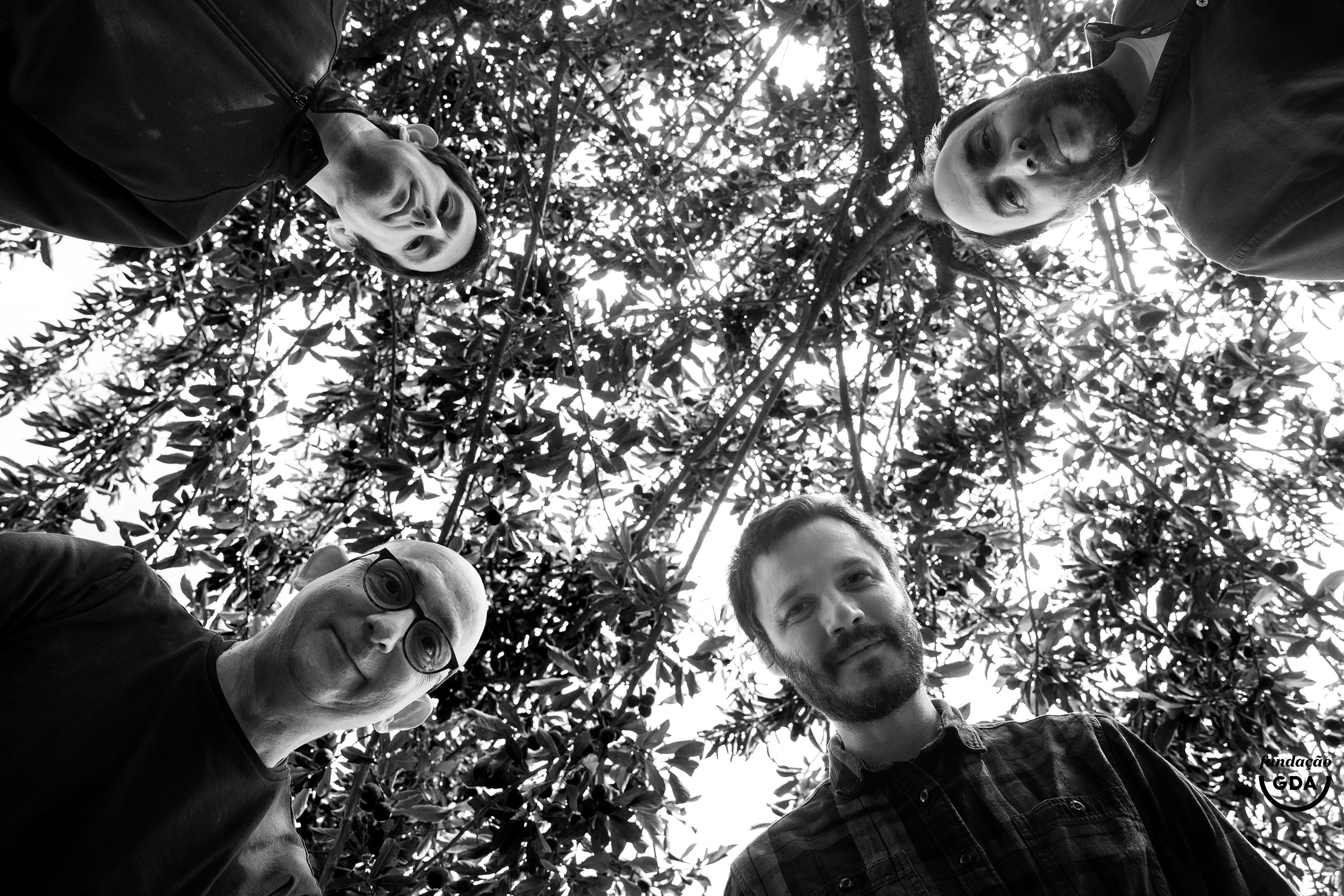 After released "
BRANCO
" (carimbo porta-jazz), in 2013, the quartet's debut album and, in 2016, the album "
A VIDA DE X
" (carimbo porta-jazz), the quartet led by bassist and composer Miguel Ângelo now promotes the group's third work, "
DANÇA DOS DESASTRADOS
", for which he obtained the support of the
Fundação GDA
.
Keeping the quartet formation with his usual companions: João Guimarães at Sax Alto, Joaquim Rodrigues at Piano and Marcos Cavaleiro at Bateria, the new work is the continuity of the work and maturation of the composer and the group, which is more creative, inspired and matured.

Press:
Voted one of the best records of 2016 for Phil Barnes @ All About Jazz
In its way the wonderful Portuguese jazz release from the Miguel Angelo Quartet A Vida de X also looked to augment the music with a striking, stylish, limited edition that showcased a commissioned illustration for each track. It was an album that gradually built the interest over a few weeks of summer listening, until I found myself looking forward to listening to it without even thinking.
Considered by Jazz.pt magazine as one of the best national Jazz records in 2016
**** «... Miguel Ângelo signs ten themes with personality well-defined ... the bass player follows the lines he had already exposed on his debut album, Branco - frank, direct and intense music. » @ Publico.pt by Nuno Catarino
****« This is an album that beguiles gradually rather than being an instant infatuation. It is like the friend you feel comfortable with, who is unobtrusive yet steadfast, and whose worth is proven over time. Those are the people to keep close, and this is an album to value — great stuff. » @ AllAboutJazz by Phil Barnes
«... there is richness to the album's rhythmic approach that, on its own, would be plenty to keep the attention locked in. And the lyrical nature of each melody is something where storybook concepts are expanded on and taken far from their original manifestation ... »@ Bird Is The Worm by Dave Summer
All Photos By Mínima, Musica & Arte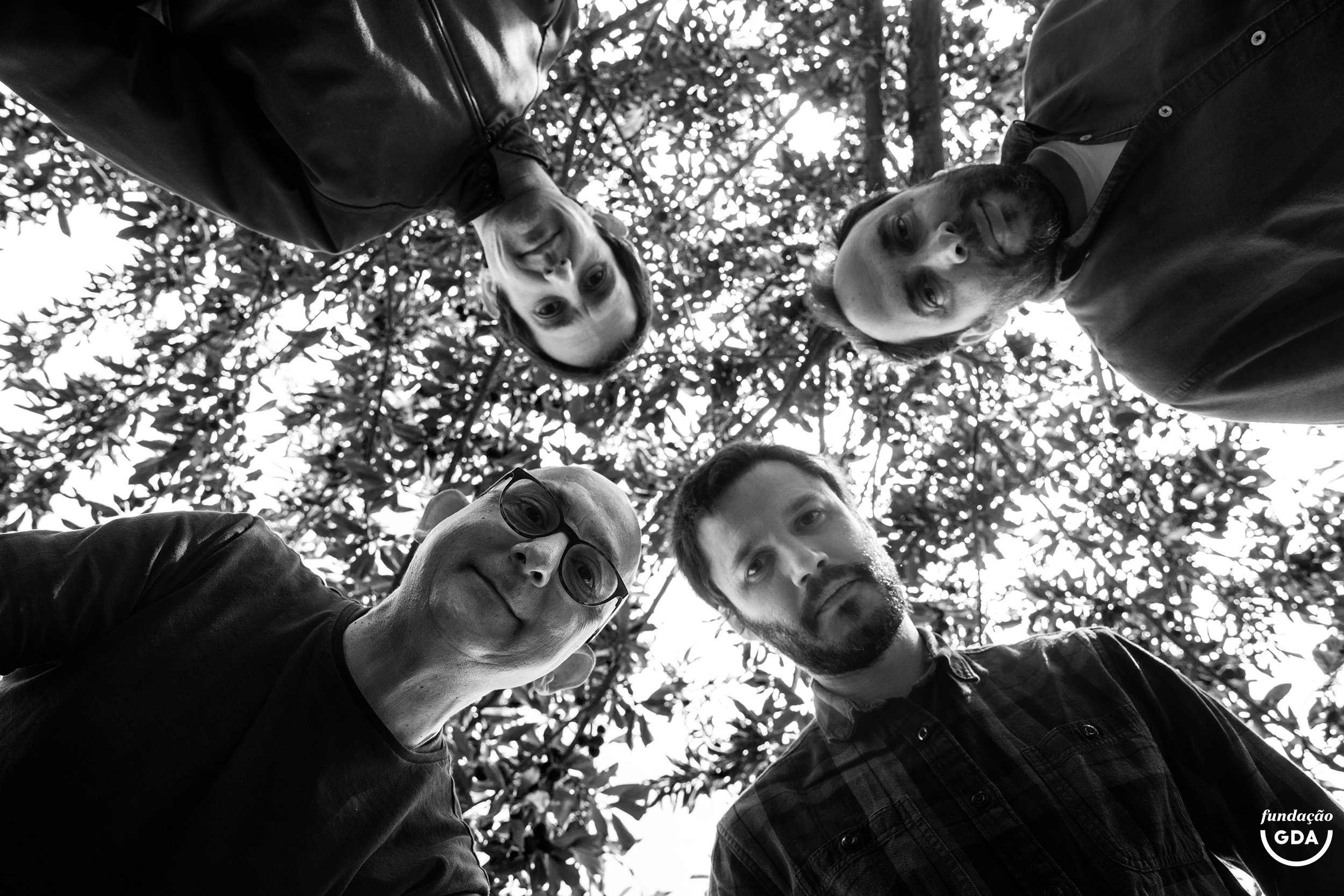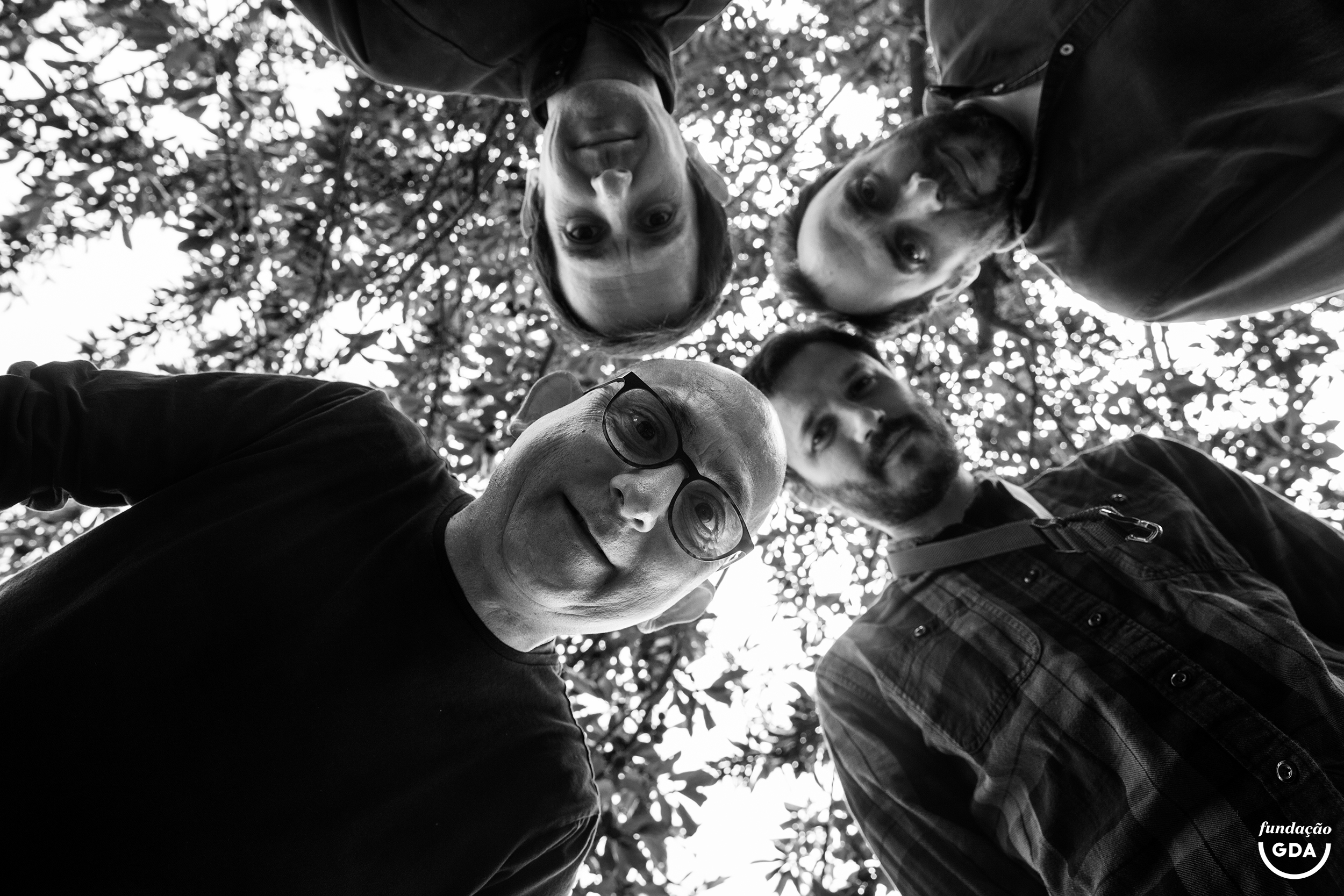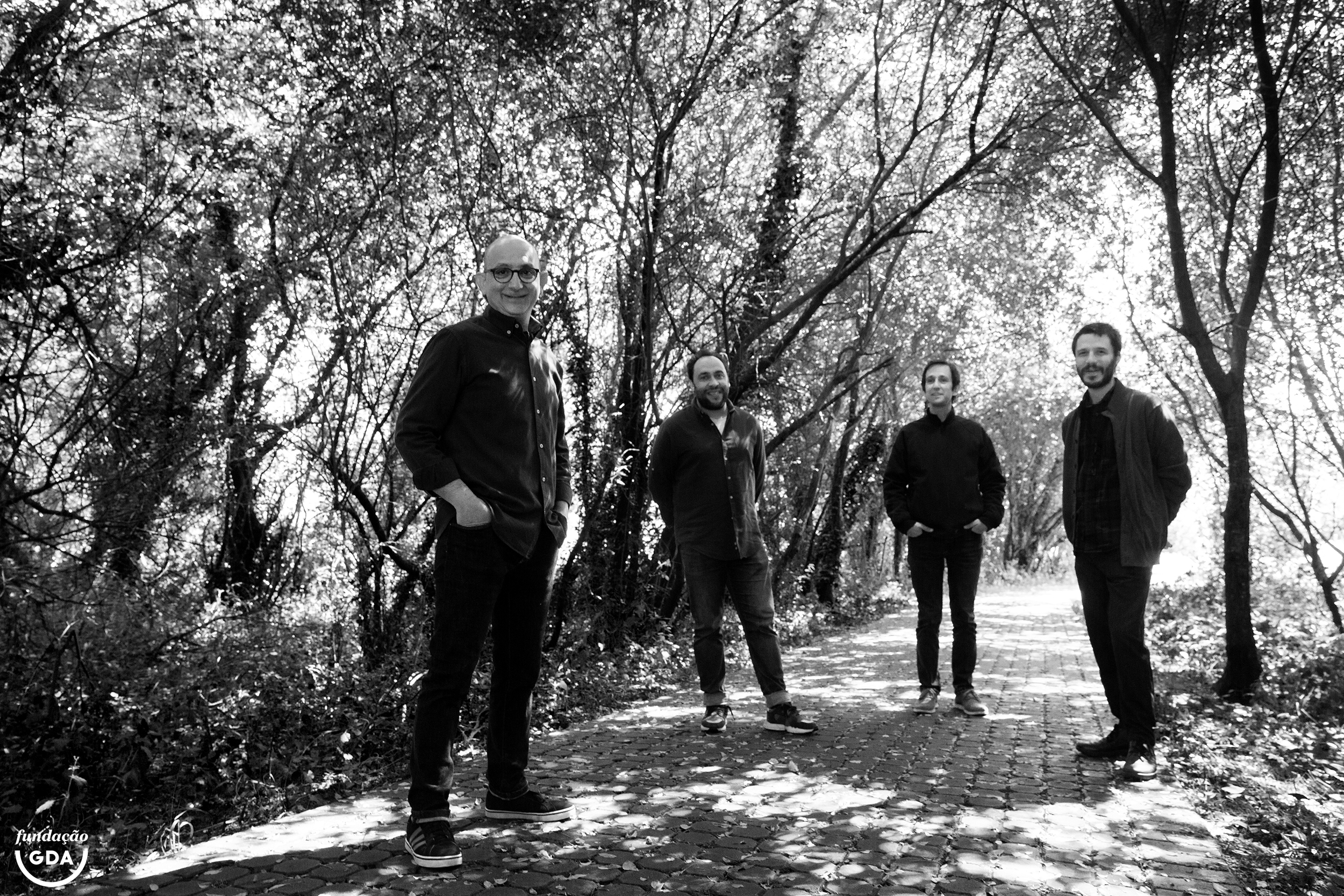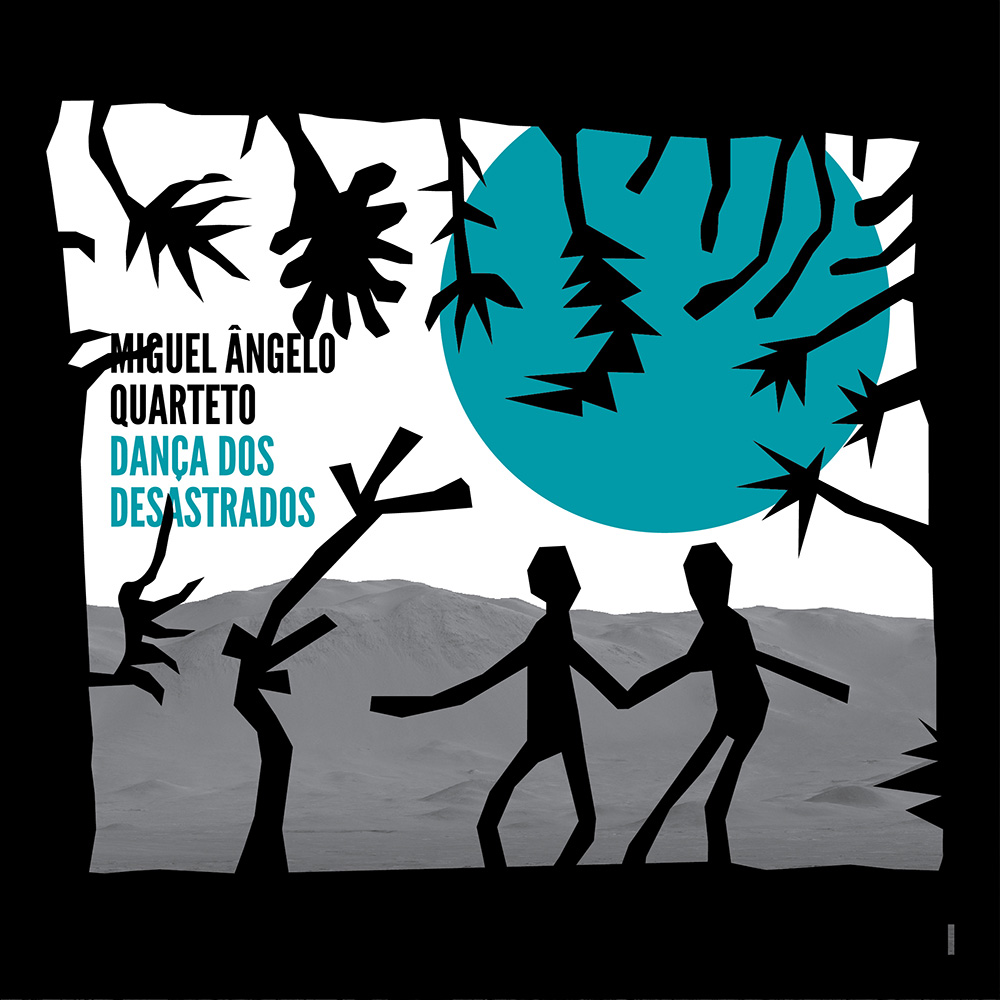 Based on possible Traditional Dances, real or imagined, this is a proposal of the music group to listen, feel and dance, even for the most disastrous.
Alignment:
01- Chapter I
02- Once upon a time
03- Path of the Lost
04- Dance of the Disastrous
05- Chapter II
06- Solitaire Waltz
07- Unknown Soldier
08- Chapter IIIv 09- Turn inside out | 10- Requiem of the Insignificant
I would like to thank everyone who, directly or indirectly, contributes to making me a better person and a more inspired, creative and competent musician. To the friends who accompany me on this trip again: Marcos Cavaleiro, for his constant and fundamental presence throughout the process, João Guimarães and Joaquim Rodrigues, thank you for your friendship and your music. To João Bessa for his support in capturing. To my longtime friend, Nelson Carvalho, for his ears and for the sound art that allows him to get the best out of music. To João Neves, from Omnisonic Internacional, for his support and availability. To Porta-Jazz for ten years doing miracles. To Maria Mónica for the always surprising graphic work. Special thanks to the GDA Foundation for the support it gave me and allowed me to carry out this project. Finally, my family and especially the women in my life, Ana and Sofia.
Recorded in January 2021, at the Casa do Miguel studio. Funded by Miguel Ângelo and João Bessa. Mixing and mastering, Nelson Carvalho. Produced by Miguel Ângelo.
All compositions are by Miguel Ângelo, except Chapters I, II and III, which are collective improvisations.
Cover, design and conception by Maria Mónica .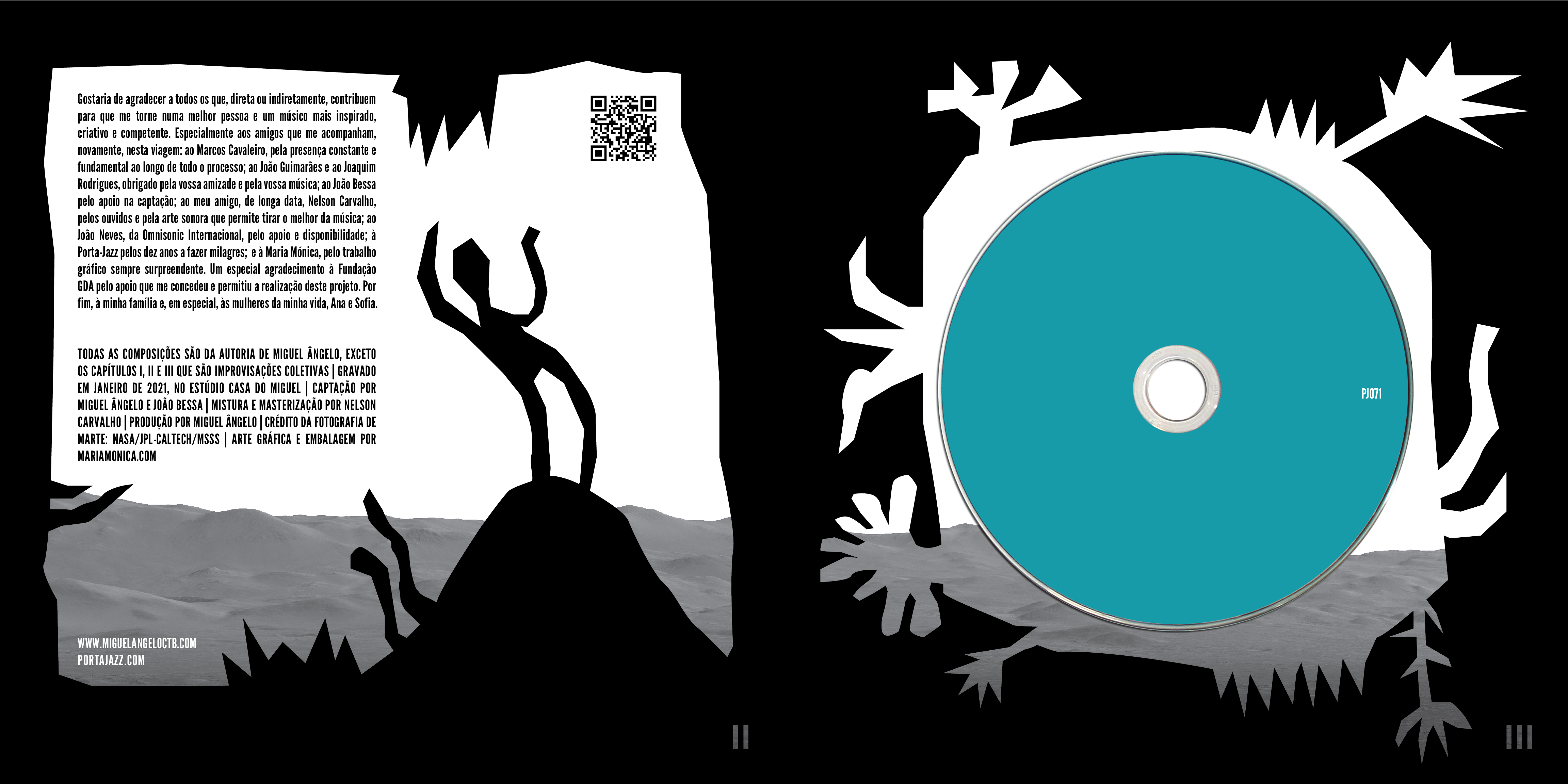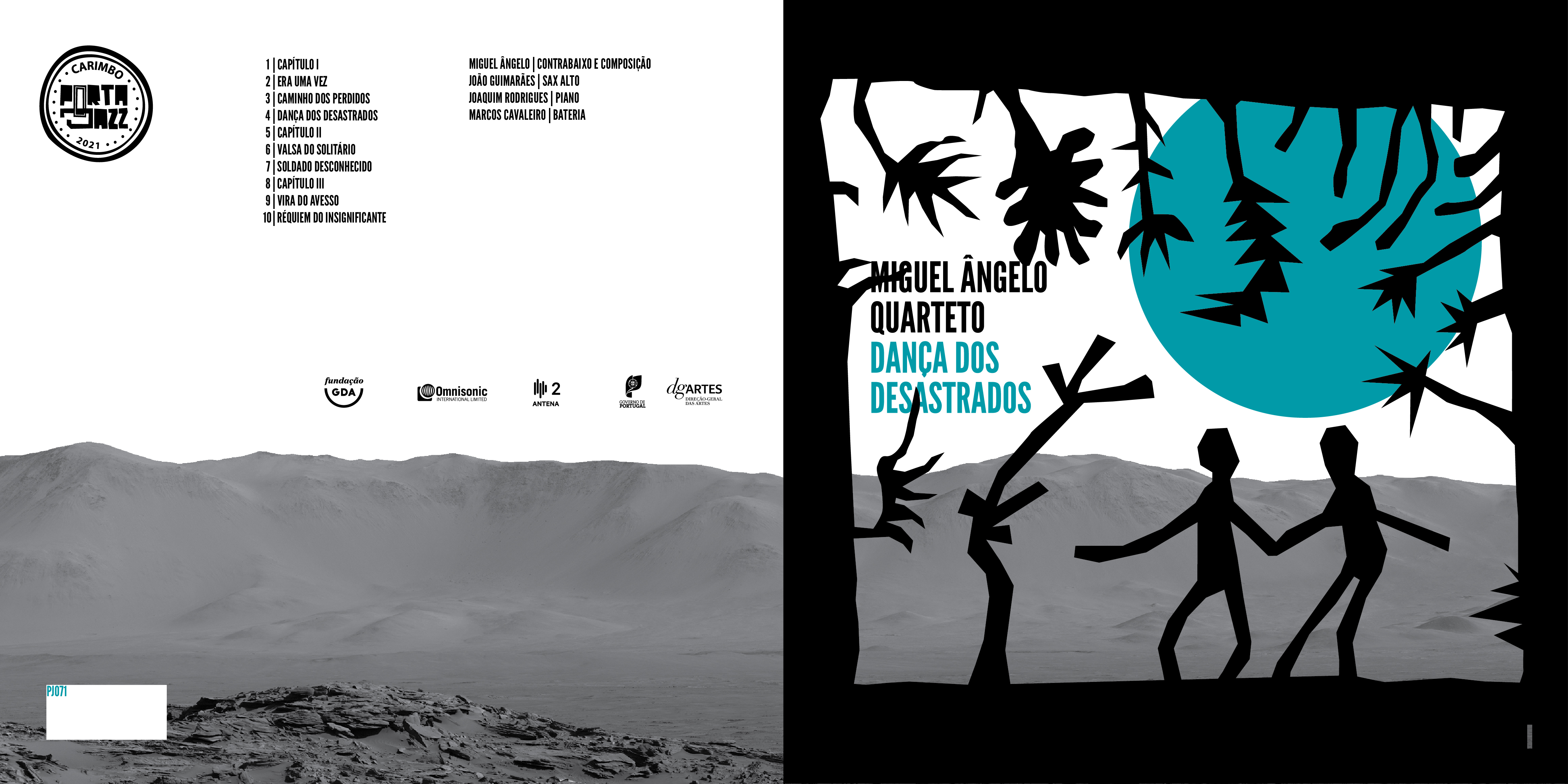 ABOUT THE DIGITAL PROJECT
The arts complement each other, intersect, run over each other and in conjunction allow for new achievements and realities. For this reason, the double bass player and composer who is also a computer programmer, joined the graphic artist Maria Mónica, author of the album''s cover and, from music, created a new digital "autonomous" world, in the form of a game, landscape and / or virtual reality so that music, design and technology enhance the sensory experience of the listener / interlocutor (a).
INSTRUCTIONS
This game / site was created and developed by Miguel Ângelo , based on the graphic creation of the album cover by artist Maria Mónica .
It is intended that the user interacts with the world that we create, himself with will and autonomous life. You must use the and keys to move left and right, respectively, the key is used to stop. These same movements can be performed by positioning the mouse cursor.
The objective is to collect clumsy dancers (Miguel, João, Joaquim and Marcos), for this purpose they must capture them whenever they appear on the planet; when clicked, trees can grow or shrink and simultaneously remove or assign dancers! Meteorites are disastrous and, when they are not caught in time and hit the ground, a dancer of each type loses. When caught, a clumsy dancer of each type wins. The trees of different color are accessed to information about the disk. Finally, the world we present is autonomous, the simple letting it grow and seeing the transformation of the landscape will be a factor to be explored.
Accompanying all this is my music, which inspired and is intended to be an inspiring element in the creation of your own world!
At the end you can save your record and share it with me, just click on the icon
Have fun !
PRÓXIMOS CONCERTOS | NEXT GIGS
CONCERTOS PASSADOS | PAST GIGS
30/05/2021 @ Tenda Porta-Jazz
Dança dos Desastrados
Concerto de apresentação do novo disco do meu quarteto!
18/06/2021 @ Parque da Maia
Dança dos Desastrados
29/07/2021 @ Festival Dá Corda - Six Senses Douro Valley Hotel
Dança dos Desastrados
27/08/2021 @ Jardins do Palácio de Cristal - Porto
Dança dos Desastrados
05/09/2021 @ Em Fiães Jazz 2021
Dança dos Desastrados
01/10/2021 @ tba
Dança dos Desastrados
02/10/2021 @ Festival de Jazz de Dos Hermanas (Sevilla, Spain)
Dança dos Desastrados
03/10/2021,18h @ Clube de Tavira
Dança dos Desastrados
04/10/2021, 18h @ Clube Farense, Faro
Dança dos Desastrados
05/10/2021, 19h @ Setúbal - Sociedade Musical de Setúbal
Dança dos Desastrados
06/10/2021, 19h30 @ Robalo - Penha sco (Lisboa)
Dança dos Desastrados
10/10/2021, 17h @ Paredes de Coura
Dança dos Desastrados
04/02/2022 @ Viseu
Miguel Ângelo Quarteto - Dança dos Desastrados
06/02/2021 @ Festival Porta-Jazz, 19h
Miguel Ângelo Quarteto - Dança dos Desastrados
11/04/2022 @ Porto, Jazz na Ordem
Miguel Ângelo Quarteto - Dança dos Desastrados
25/06/2022 @ Festival de Jazz do Barreiro
Miguel Ângelo Quarteto - Dança dos Desastrados
12/10/2022 @ Teatro de Vila Real
Miguel Ângelo Quarteto - Dança dos Desastrados
30/11/2022 @ Teatro de Bragança
Miguel Ângelo Quarteto - Dança dos Desastrados
10/03/2023 @ Almeirim
Miguel Ângelo Quarteto - Dança dos Desastrados
24/03/2023 @ Espaço Remy, Braga
Miguel Ângelo Quarteto - Dança dos Desastrados
06/07/2023 @ Festival de Almada (Almada)
Miguel Ângelo Quarteto - Dança dos Desastrados
19/08/2023 @ tba
Miguel Ângelo Quarteto - Dança dos Desastrados
«Dança is a fine example of the benefits of sympathetic musicians playing together over an extended period of time. The members of the quartet clearly appreciate each other and know how to bring Ângelo's compositions alive. Rather than fiery solos, the group creates and resolves subtle resonances and tensions within the tunes in ways that reward repeated listening. » by Jim Marks @ freejazzblog.org
Dança dos Desastrados on «The Best Jazz on Bandcamp - June 2021» - «On Dança dos Desastrados, every note, every beat has a melodic perspective in mind. This is not a new thing for Miguel Ângelo. The bassist has a talent for establishing epic dialogues on the strength of his flowing melodic statements.» @ Bandcamp by Dave Sumner
«Obviously the group exhibits a perfect collective understanding...This understanding of the four musicians, honed in the studio for nearly a decade and shown live on several occasions, allows this to be a vivid album of poetic dancing fantasies.» @ Notas Azuis on Rimasebatidas.pt by Rui Miguel Abreu
Live on the program «Bom Dia» on national television RTP1 talking about the Dança dos Desastrados
OUTDOOR BREATHING JAZZ - «Throughout the album, you can hear a band that breathes as a single, accomplice entity.» @Jornal de Notícia by Jorge Manuel Lopes
Dança dos Desastrados as a listening suggestion for the week of commentator Nuno Rogeiro on Sic Notícias
On Rádio Nova talking with the great Isidro Lisboa about the Dança dos Desastrados
«As a whole, the album presents us with mature and creative compositions by a quartet that improves over time ... Listen carefully to the album, it´s worth it.» @ La Habitación del Jazz (ES)
«The Dança dos Desastrados by Miguel Ângelo´s quartet deserves close listening and is a treat for the senses! They emphasize the rigor of the writing combined with the improvisations (the three Chapters are excellent) and the dynamics of the interactions (notable the João Guimarães sound - sometimes sweeter, sometimes more sinuous - and the very strong rhythmic section). The visual appeal of the music results as if we were facing the soundtrack of an imaginary movie. The multimedia component is, therefore, a great complement to what is listened to."
by António Branco, Jazz Critic
«...Together they create a parallel dream reality in a context that could be a nightmare. It happens exactly what is announced, «the arts complement each other, intersect, trample and, in conjunction, allow for new achievements and realities»...» @ Jazz.pt by Rui Eduardo Paes
«...A very narrative album, tremendously open, very creative, where free improvisation and written music are combined with a lot of communication and lyricism within the group... this album has everything, it's an authentic wonder, one of the best we've heard this year...» @ Universos Paralelos (ES) by Sergio Cabanillas
Dança dos Desastrados featured on the Madrid radio program "Universos Paralelos". Listen here